Expert Articles & Advice
March 1, 2015
Starting seedlings indoors has many benefits for gardeners and can increase the productivity and variety of your garden. It's not difficult, but does take some special considerations to be sure the seedlings can thrive both indoors and when they are transplanted. Why Start Seeds Indoors?
March 1, 2015
Gardening is in style every year, from hobby gardening and home-grown vegetables to decorative flowers and agriculture, but new trends develop each year to meet what interests gardeners most. So what is most interesting about gardening in 2015?
Special Offers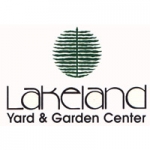 There are plenty of ways to save here at Lakeland Yard & Garden Center.
Valid 3/26 - 4/01/2015
Events
Store Events!
Check back regularly for updated event information!