Expert Articles & Advice
September 1, 2014
The picturesque verdant lawn with accompanying garden, rife with eclectic herbs, flowers and vegetables…this is the image most elicited upon hearing the word "lawn," but oftentimes, depending on your climate, that phase of a lawn's life cycle may only last a few months.
September 1, 2014
Questions come to mind when you think of organic gardening: Will I have to share my crop with the insects and pests? Should I plant twice as much and work twice as hard only to have half the yield?
Special Offers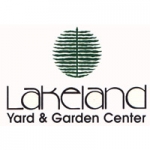 There are plenty of ways to save here at Lakeland Yard & Garden Center.
Valid 9/18 - 9/24/2014
Events
Dates and Times To Be Determined
The MS Medallion Winners for 2014: Tumbling Tom Yellow Tomato, Tumbling Tom Red Tomato, PowWow Wild Berry Cone Flower- Rabbiteye Blueberry.